Layer 3 box-type switches

AX3800S Series

The AX3800S Series Switches are high performance layer 3 switches with switching capacity equivalent to those of chassis-type switches.
The AX3800S Series Switches provide high reliability, availability, and functionality,
suitable as a core switch in medium/small-scale enterprise LANs and a Top-of-Rack switch in data centers.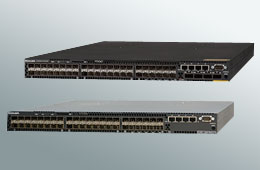 Medium/small-scale enterprise core switch

SFP/SFP+ combo ports enable a mixture of 1G and 10G at low costs, increasing flexibility of network configuration.
Learn more about 10G migration solution
Field-proven layer 3 functionality (e.g. OSPF, BGP, IPv6, VRF, etc.) developed and refined by ALAXALA over the years
Stack function enables simple protocol-free redundancy and unified management.
High density 10G Top-of-Rack switch for data centers

With 44 ports for 10 Gigabit Ethernet, possible to accommodate a large number of 10G servers.
Large MAC address accommodation capacity (approx.130,000) that can handle increasing virtual servers.
40 Gigabit Ethernet uplink model is available.
Network Configuration Example
Large-scale Enterprise LAN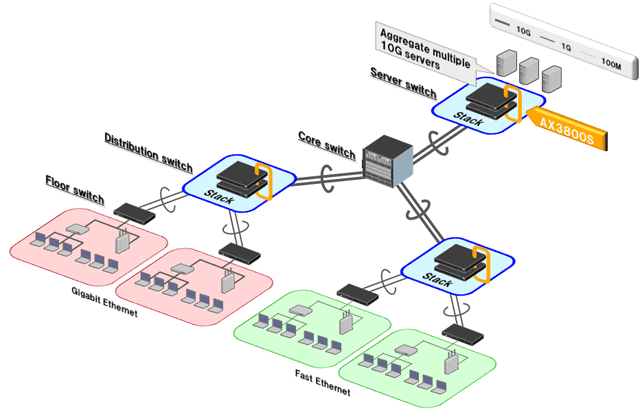 Medium/small-scale Enterprise LAN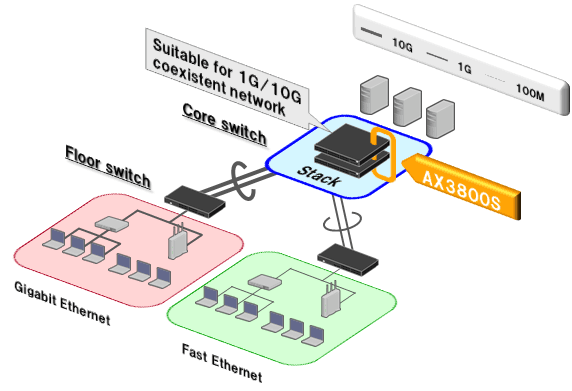 Data Center
IPv6 Ready Logo
Phase2(Core)
(Logo-ID-:02-C-000600)
High Performance
High density 10G
Compact body with 44 ports for 10 Gigabit Ethernet
Enables a mixture of 10 Gigabit and 1 Gigabit Ethernets, suitable as a core switch in an enterprise network.
40 Gigabit Ethernet
AX3830S-44X4QW supports four 40 Gigabit Ethernet ports, providing enough performance for high-speed ring networks and stack connection.
Low cost 10G network
Direct attach cables, which do not require expensive optical transceivers, can be used to reduce the total cost of switch setup.
Enhanced Accommodation Capacity
Large capacity for MAC addresses
Compared to the AX3600S Series, the number of MAC addresses is quadrupled (satisfying level for data centers experiencing rapid virtualization).
Fault Tolerant Network
Non-stop network
STP-free redundancy prevents trouble that is caused due to the complexity of using multiple protocols and provides more stable systems.
Stack
Stack enables multiple switches to operate together as a single switch (for simple protocol-free redundancy and unified management).
Link aggregation across stacked switches enables fast switchover in the event of a failure.
Ethernet cables are used for stacking, which enables long-haul communication between stack members.
Virtualization
Simple, low-cost virtual network
Using VRF (Virtual Routing and Forwarding) and VLAN together enables a network to be divided into logical subnets.
Virtual network achieves secure and highly reliable networks with lower costs.
VRF
Multiple independent instances of a routing table in the same switch enable configuration of virtual networks.
Flexible network operation
Allocating an independent IP address space for each partition enables flexible network configuration without concern about address overlap.
Combination of virtualization and triple authentication provides secure login to a virtual network.
High Reliability and High Availability
Ring protocol
Possible to configure a ring network using the ALAXALA proprietary layer 2 redundancy protocol enabling fast switchover within 1 sec.
Possible to configure a high-flexibility, multi-ring network.
High reliability
Improves reliability with link aggregation, STP, VRRP, GSRP(Gigabit Switch Redundancy Protocol), uplink redundancy, graceful restart(helper), UDLD, EtherOAM, etc.
Non-stop software update is possible by using redundant switches.
Prevention of a loop failure
Loop detection function prevents loops that may be caused by miscabling.
Storm control
Storm control prevents the suspension of an entire system when storm has occurred.
QoS
Granular QoS control enables priority control (for important packets / voice packets), port bandwidth control and so on.
Hot swappable power supply
Internally redundant, hot swappable power supplies
Stable High-Functionality Routing
Field-proven routing features
Routing software equivalent to that of carrier-grade routers that has been well received by many service providers
Policy-based routing
Makes it possible to select the best route based on each traffic flow.
Supports a tracking feature, which helps detect communication faults and performs automatic route switchover.
Usable with VRF.
IPv6
High performance IPv6 routing
Hardware-based IPv6 routing as well as IPv4 routing
Supports various routing protocols, such as static routing, RIPng, OSPFv3, BGP4+, Multicast, and so on.
IPv6 Multicast in layer 2 network
Green IT and Power Saving
Dynamic power saving features to cut unnecessary power use
Auto power off to cut power to unused ports
Device sleep: the switch shifts into the sleep mode according to a predetermined schedule.
Scheduling: power consumption is reduced during the periods of low network usage (e.g., nighttime / holidays).
Energy saving design
Low power consumption with low power architecture / circuit design and energy saving parts
Selectable airflow
Two types of air flow: front-to-rear (FR type) and rear-to-front (RF type). Possible to select an air flow type that fits the cooling system of a place where the device is installed.
Security
Triple authentication
Supports three authentication methods (IEEE802.1X, Web, MAC), enabling flexible secure networking.
DHCP Snooping
Forwards only authorized packets coming from trusted DHCP clients whose IP addresses were issued by DHCP servers.
Quarantine solution
Only PCs complying with a security policy can access a network.
Filtering
Supports access control lists for layer 2, layer 3, and layer 4 headers.
VLAN
Port-based VLAN, Tag-VLAN, protocol VLAN, MAC VLAN
Operation Management and Maintenance
Unified CLI
Unified Command Line Interface enabling easy operation and maintenance
Command-free maintenance
Easy maintenance operation (e.g. backup data and update software.) just by inserting an SD card (script) into the switch
Click image for larger view
AX3830S
Model
AX3830S-44XW
AX3830S-44X4QW
Performance
Switching capacity (Gbit/s)
888
1208
Packet forwarding rate (Mpacket/s)
660.7
896.5
Max. ports
40GBASE-CR4/SR4/LR4 (QSFP+)
-
4
10GBASE-CU/SR/LR/ER (SFP+)
44 #1
1000BASE-SX/LX/BX/LH (SFP)
44 #2
1000BASE-T (SFP)
44 #2
10BASE-T/100BASE-TX/
1000BASE-T #3
4
Layer 3 features
IPv4
Unicast
Static routing, RIP, RIP2, OSPF, BGP4, IS-IS #4, Policy based routing
Muliticast
PIM-SM, PIM-SSM, IGMPv2/v3
IPv6
Unicast
Static routing, RIPng, OSPFv3, BGP4+, IS-IS #4
Muliticast
PIM-SM, PIM-SSM, MLDv1/v2
Layer 2 features
MAC entries
128K
VLAN
Port VLAN, Tag-VLAN (IEEE 802.1Q), Protocol VLAN, MAC VLAN, Tag translation
Spanning tree protocol
STP(IEEE 802.1D), RSTP(IEEE 802.1w), PVST+, MSTP(IEEE 802.1s), BPDU filter, Root guard, Loop guard
Multicast
IGMPv/v2/v3 snooping, MLDv1/v2 snooping
Ring protocol
Autonomous extensible ring protocol
Others
L2 loop detection, Storm control, IEEE802.3ah/UDLD, Ether OAM
Advanced features
Network authentication
Triple authentication (IEEE802.1X, Web, MAC)
Security
Filtering(L2, IPv4, IPv6, L4), DHCP snooping, Inter-port relay blocking
QoS
Flow detection(L2, IPv4, IPv6, L4), Bandwidth monitoring(UPC(Policer)), Marking(DSCP, user priority), Priority control(flow-based, user priority mapping),
Discard control, Shaping(port bandwidth control, scheduling(PQ, PQ+RR, PQ+WFQ, PQ+WRR, PQ+WERR)), Diff-serv
High reliability
Stack, Load balance(IPv4, IPv6), VRRP(IPv4, IPv6), Static polling(IPv4, IPv6), VRRP polling(IPv4, IPv6),
Link aggregation(IEEE802.3ad), GSRP, Uplink redundancy, Graceful Restart #6
Virtualization(Network partition)
VRF (Virtual Routing and Forwarding), Forwarding between VRFs
Others
IPv4 DHCP server/relay agent, IPv6 DHCP server(Prefix delegation)/relay agent #5, L2-VPN(VLAN tunneling)
Operation
management
Network management
SNMPv1/v2c/v3, MIB-II, IPv6 MIB, RMON, sFlow, LLDP, OADP, CDP, Port mirroring
Operation / maintenance
CLI, Command-free maintenance(SD card script), RADIUS, TACACS+, SSH #9, syslog, ping, traceroute, telnet, ftp, tftp, NTP
Power saving
Power consumption information indication
Static power saving
Powering off ports
Dynamic power saving
Power control of the device, Powering off ports(scheduling), Suppressing power feeding for unused ports #7
Airflow
Front-to-rear (FR type), Rear-to-front (RF type)
Redundancy
Power supply (AC, DC)
Equipment
conditions
Input voltage
AC 100-120V / 200-240V
DC-48V
Max. input current (A)
2.5 @ AC 100V / 1.3 @ AC 200V
5.3 @ DC-48V
3.0 @ AC 100V / 1.5 @ AC 200V
6.3 @ DC-48V
Max. power consumption (W)
250
300
Max. heat output (kJ/h)
900
1080
Dimensions W x D x H (mm)
445 x 580 x 43 (1U)
Weight (Kg) (Including power supply)
11.0 or less
Environmental
specifications
Operating temperature
-10°C to 50°C (with front-to-rear air flow) #8
-10°C to 45°C (with rear-to-front air flow) #8
Non-operating temperature
-10°C to 50°C
Storage temperature
-25°C to 65°C
Operating relative humidity
10% to 90% (non-condensing)
Non-operating humidity
8% to 90% (non-condensing)
Storage relative humidity
5% to 90% (non-condensing)
Floating dust
Floating dust of about 10 microns or smaller: 0.15mg/m3
#1

When SFP/SFP+ combo ports are used for 1000BASE-X(SFP), this value must be reduced by the number of such ports.

#2

When SFP/SFP+ combo ports are used for 10GBASE-R(SFP+), this value must be reduced by the number of such ports.

#3

Supported on 10/100/1000BASE-T(UTP, full duplex) ports.

#4

IS-IS is planned to be supported in future.

#5

Software option license is required.

#6

Helper functions(OSPF, OSPFv3) and receive-router functions(BGP, BGP4+) are supported.

#7

Supported on 10/100/1000BASE-T(UTP) ports.

#8

Operating temperature range is 0°C to its upper limit when booting a switch or when operating with SFP-BX1U/1D or SFP-BX4U/4D.

#9

SSH function is subject to export control regulations, and may be excluded when exported.

*

OSPF, OSPFv3, BGP4, BGP4+, and policy based routing are available with L3 advanced software.