Layer 2 box-type switches

AX2200S Series

The AX2200S Series Switches are cost-effective layer 2 Gigabit Ethernet switches with PoE/PoE+ that are capable of accommodating 24 high-speed wireless access points.
Further, the AX2200S Series supports 60W-capable PoE for connection to new network devices such as digital signage displays.The AX2200S Series Switches also supports network authentication to reject unauthenticated access.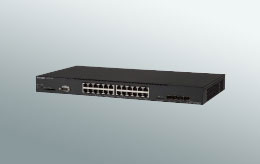 24 ports for 1 Gigabit Ethernet PoE/PoE+

Possible to use a centralized authentication point to provide integrated security management that handles wired and wireless devices efficiently.
PoE switch capable of feeding power to large capacity devices, suitable for use in smart buildings and commercial facilities

Possible to feed power to various PoE devices, such as wireless access points, IP surveillance cameras, and so on.
Four 60W-capable PoE ports for large capacity devices, such as thin clients, digital signage displays, etc.
Network Configuration Example
Enterprise LAN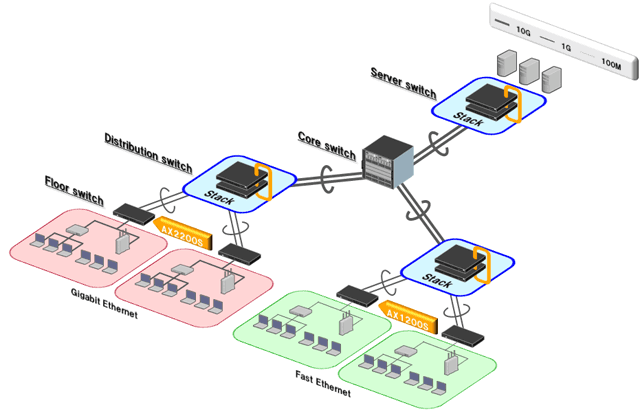 Security
Triple authentication
Supports three authentication methods (IEEE802.1X, Web, MAC), enabling flexible secure networking.
Multi-step authentication
By using two authentication methods together, possible to configure a more robust security system.
High-performance web authentication
Simultaneous authentication of a large number of terminals
DHCP Snooping
Forwards only authorized packets coming from trusted DHCP clients whose IP addresses were issued by DHCP servers.
Quarantine solution
Only PCs complying with a security policy can access a network.
Filtering
Supports access control lists for layer 2, layer 3, and layer 4 headers.
VLAN
Port-based VLAN, Tag-VLAN, protocol VLAN, MAC VLAN
Green IT and Power Saving
Dynamic power saving to cut unnecessary power use
Auto power off to cut power to unused ports
Scheduling: power consumption is reduced during the periods of low network usage (e.g., nighttime / holidays).
Energy saving design
Low power consumption with low power architecture / circuit design and energy saving parts
Fanless models
Suitable for use in places that should be noise-free (e.g., conference rooms)
No dust accumulation and no moving parts, reducing chance of malfunction. (AX2230S-24T)
PoE/PoE+
PoE for reducing use of power cords
24 ports for Gigabit Ethernet PoE/PoE+ (AX2230S-24P)
Capable of housing PoE devices (i.e., IP telephone, wireless AP), thus requiring fewer cables and reducing stress associated with wiring complexity, resulting in cost reduction and shorter construction periods.
AX2230S-24P supports Class 3 (15.4W) power feeding at all ports (Max. 24 ports), as well as Class 4 (30.0W) power feeding using PoE+ (IEEE802.3at) (Max. 12 ports).
60W PoE
Capable of 60W power feeding (Max. 4 ports).
High Reliability and High Availability
Ring protocol (supports only transit nodes.)
Possible to configure a ring network using the ALAXALA proprietary layer 2 redundancy protocol enabling fast switchover within 1 sec.
Possible to configure a high-flexibility, multi-ring network.
High reliability
Improves reliability with link aggregation, STP, GSRP aware (Gigabit Switch Redundancy Protocol), uplink redundancy, UDLD, and EtherOAM.
Prevention of a loop failure
Loop detection function prevents loops that may be accidentally caused by miscabling.
Storm control
Storm control prevents the suspension of an entire system when storm has occurred.
QoS
Granular QoS control enables priority control (for important packets / voice packets), port bandwidth control and so on.
IPv6
IPv6 Multicast in layer 2 networks
Operation Management and Maintenance
Unified CLI
Unified Command Line Interface enabling easy operation and maintenance
Command-free maintenance
Easy maintenance operation (e.g. backup data and update software.) just by inserting an SD card (script) into the switch
Click image for larger view
AX2230S
Model
AX2230S-24T
AX2230S-24P
Performance
Switching capacity (Gbit/s)
56
56
Packet forwarding rate (Mpacket/s)
41.6
41.6
Max. ports
1000BASE-SX/
SX2/LX/BX/LH (SFP)
4
4
10BASE-T/100BASE-TX/
1000BASE-T
24
-
10BASE-T/100BASE-TX/
1000BASE-T
[PoE/PoE+/60WPoE]
-
24 #1
Layer 2 features
MAC entries
16K
VLAN
Port VLAN, Tag-VLAN (IEEE 802.1Q), Protocol VLAN, MAC VLAN
Spanning tree protocol
STP(IEEE 802.1D), RSTP(IEEE 802.1w), PVST+, MSTP(IEEE 802.1s), BPDU filter, Root guard, Loop guard
Multicast
IGMPv1/v2 snooping, MLDv1/v2 snooping
Ring protocol
Autonomous extensible ring protocol #2
Others
L2 loop detection, Storm control, IEEE802.3ah/UDLD, Ether OAM
Advanced features
Network authentication
Triple authentication (IEEE802.1X, Web, MAC), Multi-step authentication,
One-time password for Web authentication(RSA SecurID) #3
Security
Filtering(L2, IPv4, L4), DHCP snooping, Inter-port relay blocking
QoS
Flow detection(L2, IPv4, L4), Marking(DSCP, user priority), Priority control(flow-based, user priority mapping),
Discard control, Shaping(port bandwidth control, scheduling(PQ, WRR, PQ+WRR, WFQ)), Diff-serv
High reliability
Link aggregation(IEEE802.3ad), Uplink redundancy, GSRP aware
Virtualization(Network partition)
-
Others
IPv4 DHCP server, Secure wake on LAN #3
Operation
management
Network management
SNMPv1/v2c, MIB II, RMON, LLDP, Port mirroring
Operation / maintenance
CLI, Command-free maintenance(SD card script), RADIUS,
SSH #5, syslog, ping, traceroute, telnet, ftp, NTP
Power saving
Static power saving
Powering off ports
Dynamic power saving
Powering off ports(scheduling), Suppressing power feeding for unused ports #4
Redundancy
-
Fanless support
Fanless
-
Equipmentconditions
Input voltage
AC 100-120V / 200-240V
Max. input current (A)
0.5 @ AC 100V
0.3 @ AC 200V
6.7 @ AC 100V
3.4 @ AC 200V
Max. power consumption (W)
30
470
Max. heat output (kJ/h)
108
1692
Dimensions W x D x H (mm)
445 x 230 x 43 (1U)
445 x 350 x 43 (1U)
Weight (Kg) (Only main body)
3
5
Environmentaltspecifications
Operating temperature
0°C to 45°C
0°C to 50°C
Non-operating temperature
-10°C to 50°C
Storage temperature
-25°C to 65°C
Operating relative humidity
10% to 90% (non-condensing)
Non-operating humidity
8% to 90% (non-condensing)
Storage relative humidity
5% to 90% (non-condensing)
Floating dust
Floating dust of about 10 microns or smaller: 0.15mg/m3
#1

The maximum number of ports for power feeding is 24 for Class 3 (15.4W), 12 for Class 4 (30.0W) and 4 (dedicated ports only) for 60.0W.

#2

Only transit is supported.

#3

Software option license is required.

#4

Supported on 10/100/1000BASE-T(UTP) ports.

#5

SSH function is subject to export control regulations, and may be excluded when exported.