High Reliability

Fault Tolerant Network
ALAXALA proposes Fault Tolerant Network, a high reliability solution that helps avoid trouble caused due to complexity of networks. Fault Tolerant Network solution enables simple redundant networking without STP and VRRP. The following functions are available for Fault Tolerant Network, and you can select the best one based on a network scale.
Functions
Description
Size
Layer
Fault Tolerant Switch
(FT Switch)
FT Switch employs a fault tolerant architecture, which enhances reliability and availability of the switch as much as possible.
Functions of two units are mounted in one unit.
Chassis
Layer 3
Stack/VRS
Stack and VRS enable multiple switches to work together as a single switch, enabling simple protocol-free redundancy and unified management.
Box-type
Layer 3
SML(Split Multi Link)
SML enables link aggregation across switches
Box-type
Layer 2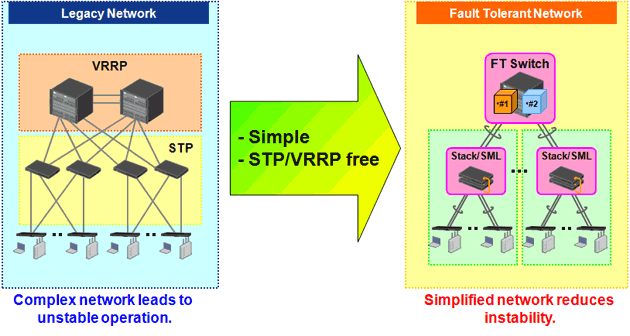 Fault Tolerant Switches

Chassis:

Router:

Graceful Restart

Chassis:

Box:

Router:

Stack/VRS

Chassis:

Box:

Split Multi Link

Box:
#1 Employs the fault tolerant architecture.
#2 To be supported in 2014.
#3 Supported on AX3650S.