Layer 3 chassis-type switch
AX8600S Series
With the growing popularity of smart devices and the proliferation of rich content, we have seen a sharp rise in traffic, making it imperative for carriers/ISPs, enterprises and public facilities to increase the speeds and capacities of their networks. The AX8600S, which is a series of high-end core switches for next generation, inherited the architecture of the AX8600R (a series of carrier-grade routers), and features performance and capacity that can support the operations of carriers/ISPs. Further, the AX8600S has a large forwarding table and a large filtering/QoS entry capacity, making it suitable for use as a core switch in the backbone networks of large enterprise / public facility systems.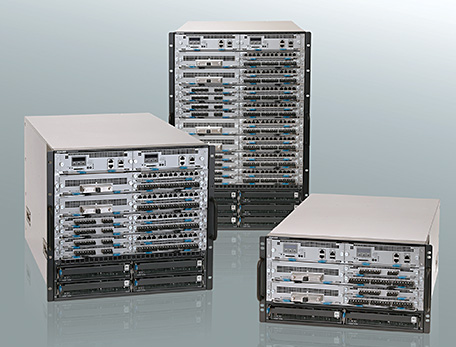 Configuration example : large-scale campus network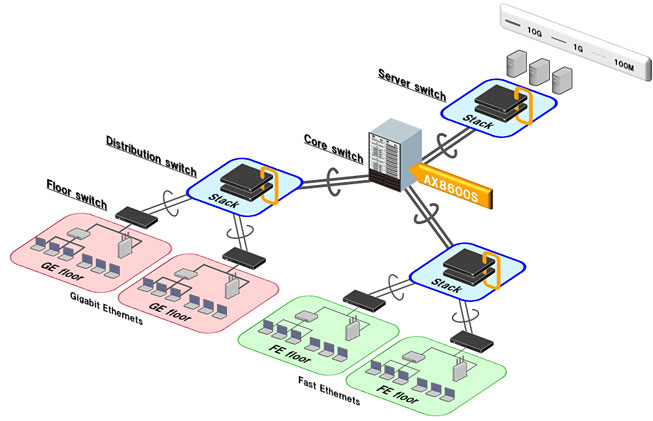 Core switch

High-end chassis-type switch featuring high performance (Max. switching capacity: 6.4 Tbps)
Capacity supporting a large-scale system (10G: 192 ports, 1G: 384 ports, large number of table entries)
High scalability and high flexibility (modular-type switch that eases device replacement and system enhancement)
High reliability (FT switch, full link aggregation)
Virtualization ensuring security for individual departments
Field-proven L2/L3 functionality (OSPF/BGP, IPv6, multicast, L2 functionality)
Configuration example : data center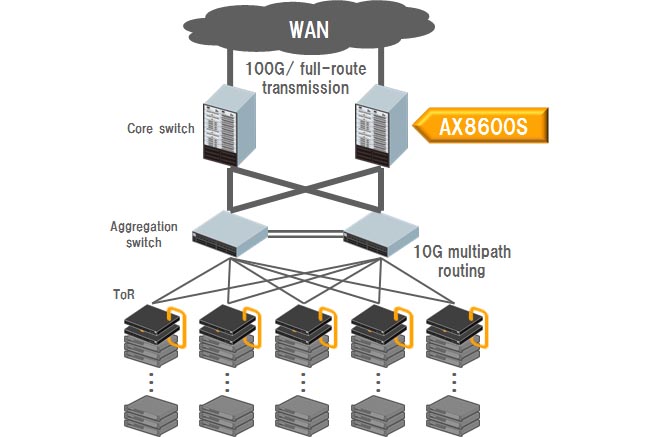 Core switch

100G Ethernet, full-route transmission
High scalability and high flexibility (modular-type switch that eases device replacement and system enhancement)
High performance (Max. switching capacity: 6.4 Tbps)
High reliability (FT switch, full link aggregation)
IPv6 Ready Logo
Phase2(Core)
(Logo-ID-:02-C-001099)
High Speed, Large Capacity
100 Gigabit Ethernet
The AX8600S series supports 100G Ethernet (popular among carriers/data centers).
100G interface: max. 16 ports
Scalable switching capacity
High-scalability architecture (scalable up to 10 Tbps or more)
400 Gbps and 1,000 Gbps (1 Tbps) communication services (expected to be available in the future)
High Port Density
Industry-leading 10G port density
16U body capable of housing max. 384 interfaces (future support) for 10G Ethernet
24 ports/unit (allows efficient use of installation space)
High-Functionality Reliable Packet Forwarding
Packet forwarding with large route entry capacity
The AX8600S series employs field-proven, highly reliable routing software.
More than 1 million IPv4 routes, 0.2 million IPv6 routes and 0.5 million FDB routes can be specified (route distribution pattern can be tailored to each user's requirements (future support)).
With large entry capacity (L2 routes: approx. 0.5 million FDB entries, filter/QoS: more than 0.5 million entries), the AX8600S series features high performance allowing it to serve as a core switch of a large system.

Multicast Non Stop Forwarding

is also supported.
Stable High-Functionality Routing
Policy-based routing
Helps find the best route for each traffic (IPv4/IPv6).
Provides a tracking function for fault detection and auto rerouting (future support).
Enables combination of policy-based routing and network partition.
Scalability for Long Product Life Cycle
Flexible upgrade for next-generation services/protocols (future support)
The AX8600S series enables addition of new services/protocols without degrading performance.
The AX8600S series employs hybrid engine architecture that allows cooperation of a forwarding engine (FE), which is an engine that accelerates the execution of the basic forwarding functionality; a programmable engine (PE), which is an engine that enables flexible functionality enhancement; and a service module card (SMC). With this, you can enhance functionality without degrading forwarding performance.
Advanced security and other high-end features can be available by using a service module card (SMC).
Facility migration with minimum capital investment
The AX8600S series employs a micro line card structure that allows mixture of different types of interfaces (e.g., mixture of 1G Ethernet currently in use and 10G Ethernet to be used in the future for system upgrade and capacity enhancement).
1/4 slot size enables step-by-step system buildup (reduces idle slots/ports and facility investment cost).
Fault Tolerant Network
Non-stop network
STP-free redundancy with full link aggregation prevents trouble associated with system complexity and enhances network stability.
Fault tolerant architecture
The AX8600S series employs a dual functionality system that enables failover operation, and architecture that enhances the device's availability to the full (switchover with a minimum of 50 ms).
Protocol accelerator (PA)
The AX8600S series employs PA enabling hardware-assisted fast failover.
Detection of link-down faults by PA accelerates switching of link aggregations.
Fast forwarding of BFD packets by PA accelerates detection of BGP/OSPF faults.
High Reliability, High Availability
ALAXALA Ring
ALAXALA proprietary L2 redundancy protocol enables failover with 1 s (minimum time).
Multi-ring topologies are also supported (increases flexibility in network configuration).
High reliability features
The features, such as link aggregation, STP/VRRP, and Graceful Restart, improve reliability of lines/routes.
By making modules redundant, software update without stopping services becomes possible.
Loop detection
Detects miscabling to avoid loop faults.
QoS
Provides fine-tuning QoS: priority control to give higher priorities to important packets and delay-sensitive packets (e.g., voice packets), bandwidth control to allocate a set amount of bandwidth to ports, and so on.
Hot-swappable power supply
The built-in redundant power supply makes it possible to replace a power supply unit without interrupting services.
Network Partition (Virtualization)
Simple low-cost network virtualization
Combination of VRF (Virtual Routing and Forwarding) and VLAN (Virtual LAN) logically splits a network.
Secure, highly reliable virtual network (partitions) can be configured at low cost.
Virtual router (VRF)
Makes it possible to configure a virtual network by having multiple independent routing tables in a single unit.
IPv6
High-speed IPv4/IPv6 routing
Hardware-based fast routing for IPv4/IPv6
Various IPv6 protocols: Static, RIPng, OSPFv3, BGP4+ and Multicast
Security
Filtering
Unauthorized traffic is eliminated by multilayer (L2/L3/L4) ACL (Access Control List).
Simple Operation Management and Maintenance
Unified CLI
Supports command line interfaces common to all the models of the AX series (consolidated operation management and maintenance).
Operation script
Automates routine operations (improved operating efficiency, less manpower).
Supports a script language (Python-based) to customize/automate operations.
Enables event-driven operations (e.g., inputting commands/configurations upon log output/elapse of time).
Configuration template
The AX8600S series supports macro functions to create a configuration template.
Power-Saving and Eco-Friendly Design
Flexible power saving to conserve power and reduce CO2 (future support)
The AX8600S series supports dynamic power saving to feed appropriate amounts of power when and where needed.
Possible to fine-tune the amount of power based on a traffic volume.
Power saving design
The AX8600S series employs power-saving architecture, circuits and modules.
The AX8600S series consumes 1.4 times less power (3W/Gbps) when compared to the AX6700S.
Airflow suited to data centers
All the AX8600S models support front-to-back airflow for data centers' cooling systems.
Model
AX8608S
AX8616S
AX8632S
Performance
Max. switching capacity (Tbit/s)
1.6
3.2
6.4
Max. packet forwarding rate (Mpacket/s)
240
480
960
PRU slot forwarding rate (full duplex)(Gbit/s)
120
120
120
Slot
Basic control unit (BCU)
2
2
2
Switch fabric unit (SFU)
Not required
4
4
Packet routing unit (PRU)
2
4
8
Network interface card (NIF)*1
Single size (full)
4
8
16
Single size (half)
8
16
32
Port count
100GBASE-LR4 (CFP)
4
8
16
10GBASE-SR/LR/ER (SFP+)
48/96*2
96/192*2
192/384*2
1000BASE-SX/SX2/LX/BX/LH (SFP)
96

192

384

10BASE-T/100BASE-TX/1000BASE-T (SFP)
96
192
384
10BASE-T/100BASE-TX/1000BASE-T
96
192
384
Routing protocol
IPv4
Unicast
Static, RIP, RIP2, OSPF, BGP4, IS-IS *2, Policy-based routing
Multicast
PIM-SM, PIM-SSM, IGMPv2/v3
IPv6
Unicast
Static, RIPng, OSPFv3, BGP4+, IS-IS *2, Policy-based routing
Multicast
PIM-SM, PIM-SSM, MLDv1/v2
Layer 2 features
Max. number of MAC entries
512K
VLAN
Port VLAN, Tag-VLAN (IEEE 802.1Q), Tag translation
Spanning tree protocol (STP)
STP (IEEE802.1D), RSTP (IEEE802.1w), PVST+, MSTP (IEEE802.1s), BPDU filter, Root guard, Loop guard
Cooperation with multicast
IGMPv1/v2/v3 snooping *2, MLDv1/v2 snooping *2
Ring protocol
Autonomous Extensible Ring Protocol
Other
Policy-based switching *2, L2 loop detection, Storm control *2, IEEE802.3ah/UDLD *2, Ether OAM *4
Network functionality
Security
Filtering (L2/IPv4/IPv6/L4), Subinterface (Tag-VLAN linkage), DHCP snooping *2
QoS
Flow detection (L2/IPv4/IPv6/L4), Bandwidth monitoring (UPC(policer)), Marking (DSCP/user priority), Priority control (flow-based, DSCP map),
Discard control, Shaping (port bandwidth control, scheduling (PQ, RR, 4PQ+4WFQ, 2PQ+4WFQ+2BEQ, 4WFQ+4BEQ)), Diff-serv, Hierarchical shaping *2
High reliability
Load balancing (IPv4/IPv6), VRRP (IPv4/IPv6), Static polling (IPv4/IPv6), Link aggregation (IEEE802.1AX),
High-speed route switching, Graceful Restart (BGP4, BGP4+, OSPF, OSPFv3, IS-IS *2), Multicast Non Stop Forwarding, BFD
Virtualization (network partition)
VRF (Virtual Routing and Forwarding), Inter-VRF relay
Other
IPv4 DHCP relay agent, IPv6 DHCP relay agent, L2-VPN (VLAN tunneling) *2
Operation management
Network management
SNMPv1/v2c/v3, MIBII, IPv6 MIB, RMON, sFlow, LLDP, Port mirroring, Flow statistics for filtering/QoS
Operation/maintenance
CLI, RADIUS, TACACS+, SSH *4, Configuration (commit/rollback/template), uRPF, E-mail notification of log information,
non-stop software update, high-functionality script, syslog, ping, traceroute, telnet, ftp, tftp, NTP (IPv4), SNTP (IPv4/IPv6), DNS Resolver
Operation/maintenance ports
Serial (console, AUX), Management port (IPv4/IPv6)
Power saving features
Display of the amount of power consumed, Flexible power saving *2
Air flow
Front-to-back
Redundancy
BCU, SFU (for switches other than AX8608S), Power supply, Link aggregation across PSU, Link aggregation across NIF
Equipment conditions
Input voltage
AC100 to 120V / AC200 to 240V, DC-48V
Max. input current (per power supply unit) (A)
AC100V: 15A x 1, AC200V: 16A x 1
DC-40.5V: 44A x 2, DC-48V: 37A x 2
Max. power consumption (W)
AC: 2,520 / DC: 2,610
AC: 5,160 / DC: 5,340
AC: 9,290 / DC: 9,620
Max. heat output (kJ/h) [provisional value]
AC: 9,072 / DC: 9,396
AC: 18,576 / DC: 19,224
AC: 33,444 / DC: 34,632
Dimensions: W x D x H (mm) [height:: U]*3
AC: 443 x 734 x 262 (6U)
DC: 443 x 763 x 262 (6U)
AC: 443 x 734 x 426 (10U)
DC: 443 x 763 x 426 (10U)
AC: 443 x 734 x 709 (16U)
DC: 443 x 763 x 709 (16U)
Weight (kg) (with full installation)
80
135
220
Environment conditions
Permissible operation temperature range
0°C to 40°C (recommended range: 23°C to 28°C)
Non-operating temperature (when powered off)
-10°C to 43°C
Storage/transportation temperature
-25°C to 65°C
Permissible operation humidity range
5% to 85% (non-condensing) (recommended range: 45% to 55%)
Non-operating humidity (when powered off)
5% to 85% (non-condensing)
Storage/transportation humidity
5% to 95% (non-condensing)
Floating dust
Floating dust of about 10 microns or smaller : 0.15mg/m3
*1: Shows the number of available slots when installing NIFs of the same size.
*2: Planned to be supported.
*3: The width does not include the lengths of rack-mounting brackets. The depth includes the lengths of a chassis, the handle of a fan unit, the projection of a power supply unit. The height does not include the length of a rubber foot.
*4: SSH function is subject to export control regulations, and may be excluded when exported.
# BGP and BGP4+ are software options.