Information technologies in railway systems, such as transportation IC cards, voice guidance systems in stations, real-time notice of delay in service, etc., are evolving on a daily basis. With more services likely to come out, railway networks are expected to play more important roles. First of all, railways as a transportation system must be "non-stop", which means that networks supporting railways must be reliable. That is, a wide-area network interconnecting stations must be robust enough to achieve large-volume data transmission 24 hrs / 365 days.
In addition, we cannot ignore the growing demand for network devices that can provide stable operations even in harsh, poorly equipped environments (e.g., unmanned stations ).
Key points for railway networks
High-reliability, low-cost networks that can interconnect stations extensively
Robust security amid diversity of service
Switches that can achieve stable operation even when ventilation does not work
Reliable network providing non-stop services
What will happen if all services / systems in a station stop?
We'll be thrown into a panic, often causing serious accidents. Since most of the systems we use are network-connected, suspending a network turns our orderly lives into chaos. To prevent this, we need a network that does not use STP (difficult to handle due to its complexity) and is capable of minimizing the influence of a failure.
In addition, in a multi-service network, preserving bandwidth is an important issue, because it will never be more than enough due to the diversification of services (e.g., payments by transportation IC cards, sharing information about transportation services, digital signage, etc.).
To address this issue, ALAXALA recommends Ring Protocol (ring network). Ring Protocol enables high-speed switching and excels in both availability and scalability, thus you can create a multi-ring network (network configured of multiple rings) that enables easy system expansion. Further, Ring Protocol is better at reducing cabling costs than star topologies, thereby making it easier to build 10G/40G core rings at lower costs. Moreover, AX3650S and AX3830S support Stack / Ring combination (to be supported in future), which helps create a redundant switch system for offices / stations.
Ensuring the total security of railway networks
In a railway network providing various services (e.g., IC cards, public wireless LANs, voice guidance, sharing information about transportation services, security cameras, etc.), multi-tenant functionality is needed. In such a network, ensuring security for each service at least is crucial in terms of information protection. However, building a network for every service is time-consuming and ineffective. ALAXALA's Network Partition ensures the independency of each service by logically dividing a network into subnets. With this network virtualization, you can provide new services without expanding your facility.
Robust switch providing stable operation under severe environments
Network devices are often used in severe environments (e.g., places with poor ventilation, unmanned stations, etc.). When building networks, these severe conditions must be taken into account. The AX series fanless switches do not suck dust, thus assuring trouble-free, stable operation within a temperature range from 0°C to 45°C. ALAXALA provides the environmentally-resistant switch AX1250S, which can be used under more severe conditions within a temperature range from -10°C to 50°C.
Security cameras for secure and safe transportation
Security cameras are indispensable to protect passengers. For example, you can monitor the inside of a station from a security center through cameras. Further, you can prevent a potential accident by monitoring snowfall / landslide damages on railways through cameras. To provide these security services 24 hrs / 365 days, fail-safe systems that can recover from faults immediately are required. ALAXALA's fault tolerant switches (FT switches) support multicast non-stop forwarding, enabling quick recovery from network faults without interrupting security services. Further, the fault tolerant switches, having functions of two switch units and enabling hardware-based fast switchover (50 ms), are suitable for use as the core switches of railway networks.
Network configuration image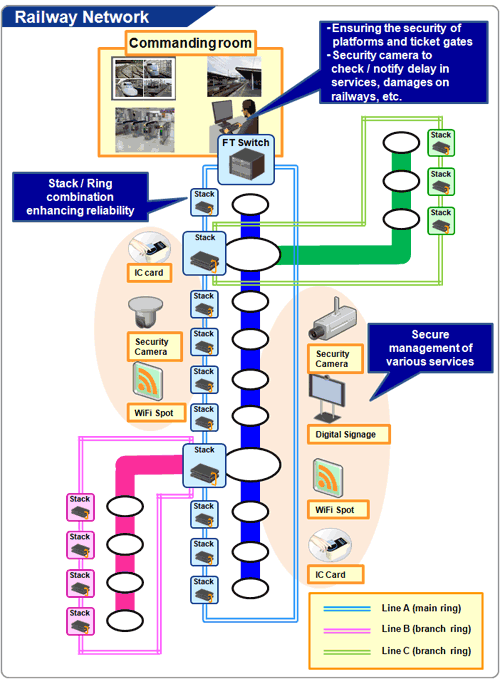 # Combination of Stack and Ring will be supported in future.
Switches
Layer 3 chassis-type switches
Layer 3 box-type switches
Layer 2 box-type switches