With the explosive growth of FTTH networking and the diversified telephony and video services, bandwidth for FTTH access networks must be increased as soon as possible. In addition, building and operating a high reliability L2 network at a low cost is an important issue. Accordingly, high scalability L2 switches capable of ensuring security using a protocol-free, simple network topology are needed. The ALAXALA AX series provides a network infrastructure that can address these issues.
Challenges facing FTTH networks
Traffic increase due to the diversification of internet services
Low-cost system construction for non-stop services
Simple and high reliability network using Stack
As the Internet is a social infrastructure, high reliability is required for an FTTH access network supporting the edge of the Internet. However, since FTTH is a system expected to provide low cost connectivity to users, excessive investment only to improve reliability must be avoided. Therefore, for operation of FTTH access networks, ensuring reliability with lower costs is important.
ALAXALA proposes a fault tolerant network (FT network), which helps construct a simple redundant system using chassis-type and/or box-type switches with Stack.
In FT network, you can place a box-type switch in the upper layer of an FTTH access network, thereby enhancing the reliability of the FTTH access network while reducing investment costs.
Box-type switches enabling 1G/10G mixture
FTTH traffic is on the rise due to the diversification of communication services (e.g., high quality video streaming). Thus, FTTH access networks must be scalable enough to deal with such increasing traffic.
The AX3800S series supports two types of modules for each switch port: 10G (SFP+) and 1G (SFP). With this, you can flexibly upgrade a system at a low cost just by replacing a module (without replacing the switch itself), making it easier to handle increasing traffic.
Secure FTTH service
To enhance security in an FTTH access network, data flow between terminals must be blocked. In the box-type switches, inter-port packet relay blocking, which disables packet transmission from one switch port to another in the same VLAN, is available to block such unintended data flow. With this, each user can enjoy secure FTTH service.
Network configuration image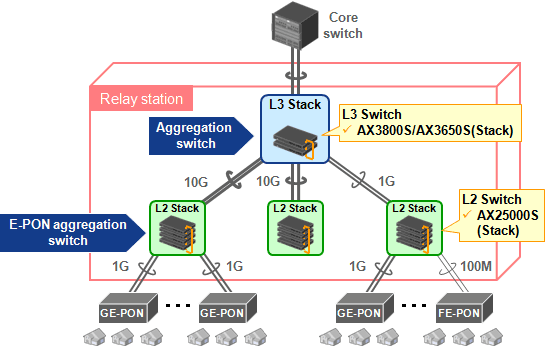 * Stack of AX2500S will be supported in 2014.
Switches
Layer 3 box-type switches
Layer 3 box-type switches for accommodating multiple 10 Gigabit Ethernets, suitable as a core switch in medium/small-scale enterprise LANs and data centers

(Stack, 1G and 10G aggregation switch)

Gigabit Ethernet layer 3 switches offering high reliability and rich functionalities equivalent to those of carrier-grade routers, suitable as a core or distribution switch in enterprise networks

(Stack, 1G aggregation switch)
Layer 2 box-type switches
Layer 2 Gigabit Ethernet switches offering high reliability and feature-rich functionality, suitable as a distribution or floor switch in enterprise layer 2 networks

(Stack, GE-PON aggregation switch)