Network virtualization and cloud computing dramatically changed the way information is handled. Given that such IT revolution drastically increased access to data centers, data centers must have a capability to transmit a large volume of data, scalability to accommodate a large number of virtual servers, and reliability to provide non-stop services. To achieve this, a technique called "fabric" is gaining popularity. However, this is not the best solution for every company when the size and usage of its system are taken into account. For example, you can build a data center network using only existing techniques if it is not a large system, thereby minimizing facility investment while increasing cost efficiency.
Key points for building a high-performance, cost-effective data center network
High-scalability devices supporting 10G up to 40G for future system upgrade
STP-free simple network that can prevent faults
High port density enabling large volume data transmission
With the advanced virtualization techniques, we are becoming more and more dependent on server/storage virtualization. As a result, IT resources were aggregated to data centers, where traffic is on the rise with increasing access to the resources. To deal with this increasing traffic, networks within data centers must be built with high-speed interface and high port density.
ALAXALA helps build a high-port-density 10G network using the AX3800S. The AX3800S, a 1U-sized switch providing 44 ports for 10G Ethernet, can serve as a ToR (Top of Rack) switch that can accommodate virtualized 10G servers or as an aggregation switch that can accommodate ToR switches.
Building a "non-stop" data center
Halting operations of data centers means suspending businesses. Therefore, we must avoid such suspension by any means. The AX3800S, usable as an aggregation switch or a ToR switch, supports Stack as a device redundancy feature. In addition, by using link aggregation for line redundancy, you can build an STP-free simple network. For data centers wanting to avoid over-spec systems, ALAXALA's Fault Tolerant Network (FT Network) will be one of the best solutions to realize a "non-stop" network.
Air conditioning system consuming less energy
The AX3800S provides front-to-back airflow, making itself suitable for use in data centers employing cold aisle (front) - hot aisle (back) air conditioning systems. This enables effective use of air conditioning equipment while reducing cooling costs. Further, the AX3800S provides back-to-front airflow as an option, which gives more flexibility in choosing a location for your switch.
Network configuration image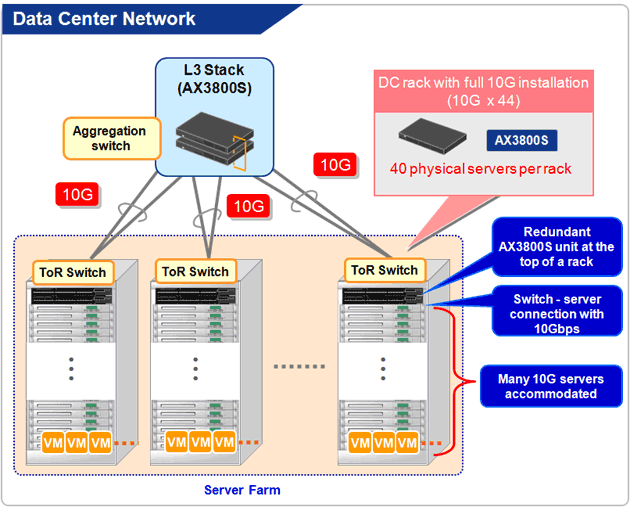 Switches
Layer 3 box-type switches
Layer 3 box-type switches for accommodating multiple 10 Gigabit Ethernets, suitable as a core switch in medium/small-scale enterprise LANs and data centers

(ToR switch)